Article
What Undermines Employee Happiness?
Join our next workshop on Wednesday, April 27, 2020, at 11 AM ET / 4 PM GMT on What Employees's Really Lack and Long for at Work.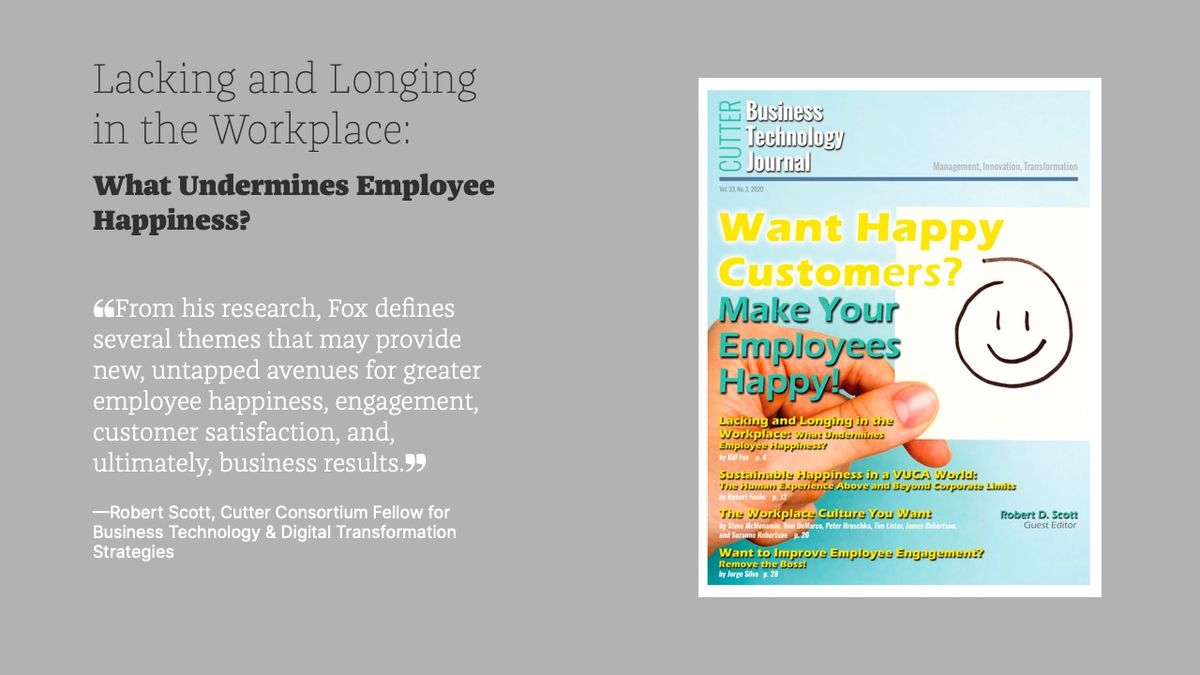 In a past issue of the Cutter Business Technology Journal (renamed Amplify), I had an opportunity to write about what I was learning about employee happiness from my many interviews at Forward Thinking Workplaces.
Because the article was published at the exact time when the world was shutting down due to the pandemic in 2020, the article fell by the wayside.
In light of today's workplace trends, I think the timing is right to take a closer look at what employees might really be lacking and longing for in the workplace.
Guest editor, Robert Scott, Fellow for Business Technology & Digital Transformation at the Cutter Consortium, introduced the article as follows:
In our first article, Bill Fox explores why so many employees are disengaged in the workplace. Fox has been exploring this for several years, engaging business leaders on their thoughts on what employees lack and long for in their work environment.
From his research, he defines several themes that may provide new, untapped avenues for greater employee happiness, engagement, customer satisfaction, and, ultimately, business results.
Join the Next Monthly Workshop
At our next Forward Thinking Workplaces Workshop on Wednesday, April 27, 2022, at 11 AM ET / 4 PM GMT we will explore what we can learn from analyzing the many surprising and innovative responses from 77 business and thought leaders.
Get more information and signup to attend the workshop here.
To attend the event you also need to have a monthly or annual membership. Members gain exciting new perspectives for greater success and help shape the future of work — powered by a forward-thinking narrative that's defining the great workplaces of the 21st century. More information and join as a member here.
All attendees will also receive a free copy of the Cutter Business Technology Journal.
I hope to see you there!
— Bill