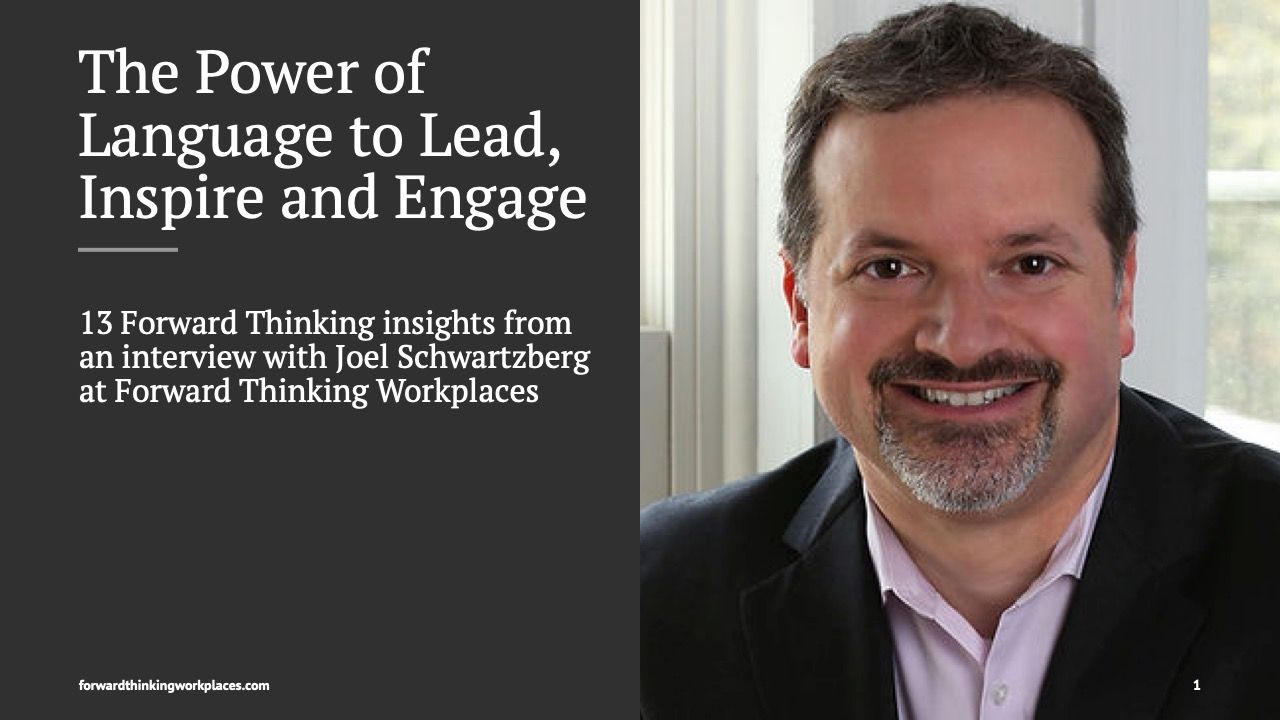 Use the Power of Language to Lead, Inspire, and Engage
My interview with Joel Schwartzberg and his books contains abundant and powerful sound speaking, writing, and leadership advice.
Over the next few months, I will publish several new insight presentations for the latest interviews published this past year at Forward Thinking Workplaces.
After some time has passed, I go back to review every interview and ask these questions:
What's most intriguing here?
And what makes it most intriguing?
Interestingly, there are almost always 13 insights in each interview. My latest review features my interview with Joel Schwartzberg, public speaking coach and author of The Language of Leadership and Get to the Point!.
Joel's interview and his books are some of my favorites. They are packed with sound speaking, writing, and leadership advice.
13 Forward Thinking Insights on the Power of Language to Lead, Inspire and Engage
It Starts With Listening
What Does My Audience Need To Know?
People Don't Hear Appreciation Often Enough
The Most Effective Thanks Are Specific
What Are The Challenges You Cope With?
What Should We Do Next?
Where Are We Going?
Not What's On My To-do List, But Where Is This All Leading?
People Either Don't Know Their Point Or Confuse Their Point With Other Things
If You Don't Know Your Point, You Are Rendered Pointless
How To Engage And Inspire Your Team
Know the True Power of Communication
Where All Ideas Begin
What did you find most intriguing?
I'd love to know, so I hope you will reply and let me know.
To your forward-thinking life & great success!
— Bill
P. S. You also might be interested in reading a related article, Unfolding Invisible Power, at my site Space Beyond Boundaries.
Founder, Forward Thinking Workplaces
Get periodic updates to enhance your ability to live, work, and succeed from the inside out.