Article
The Most Important Questions Leaders Want You to Ask
A selection of 10 questions to ask leaders taken from the Exploring Forward-Thinking Workplace interviews with pioneering business and thought leaders.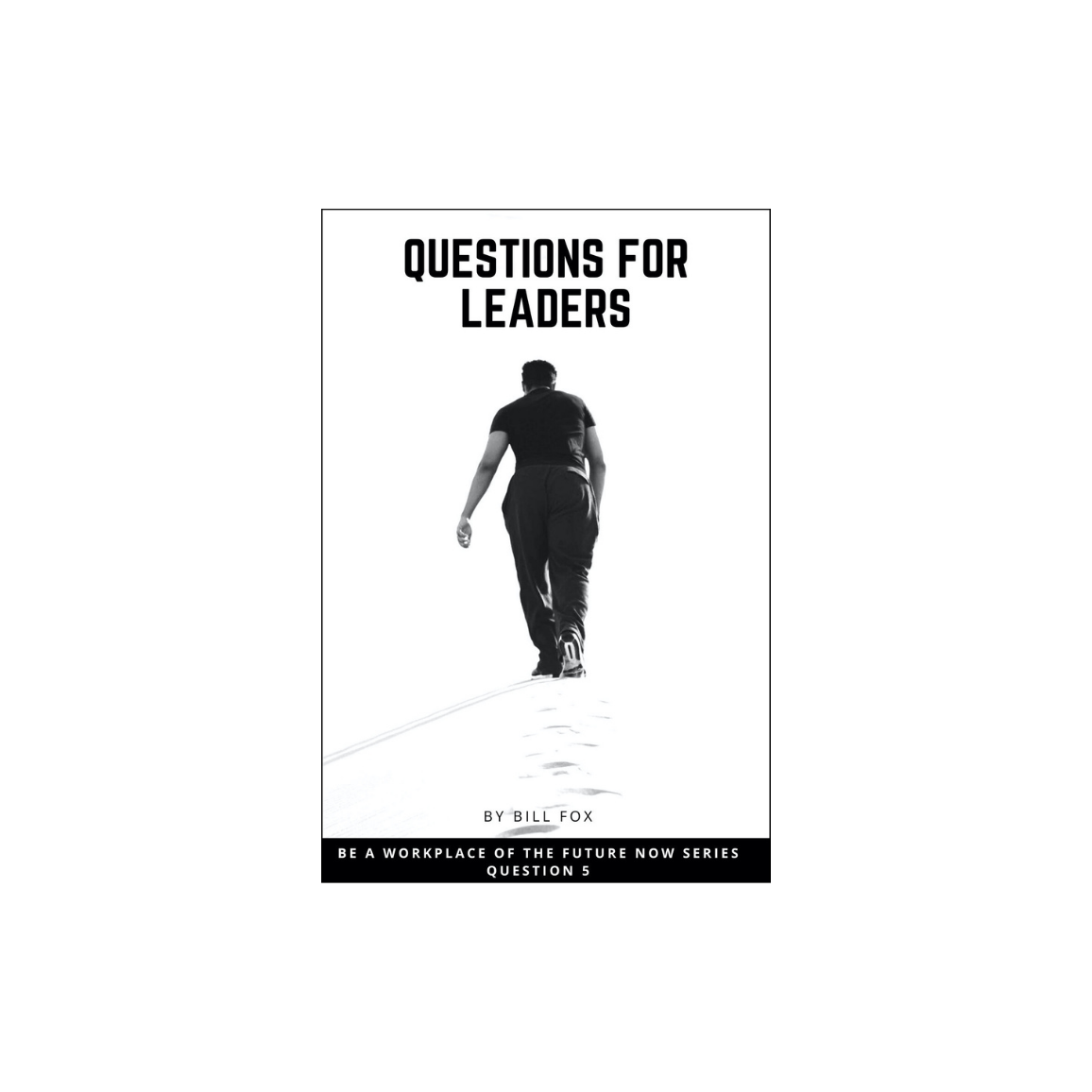 Leaders often can't see what you see or find the time to reflect on issues that impact you and your company's future. If you truly want to influence your company's future, you can help leaders be better leaders by asking better questions. And at the same time, be a better leader yourself.
We've asked over 77 leaders about this question: What is the most important question employees should be asking leaders?
Here are the 10 most important questions from top business and thought leaders.
WHAT ELSE CAN I LEARN?
What else can I learn? Where else can I know about the company and what the company is doing so I represent the company, and I am part of the change and transformation that's going on? People don't want to be left out. They want to get into as many of the right meetings and subgroups as they need to do the best they can do. It's engagement at its deepest level, having a role, and having a place to fit in. Then being able to contribute to lots of people. - Judith Glaser, CEO, CreatingWE
2. HOW ARE WE DOING?
I think employees need to know what's the scorecard. How are we doing? Employees really respond when they know. We have a meeting every week where the company's key employees review all the product lines we're selling, all the sales numbers, all of our sales projections — everything. People want to know whether we're hitting our targets or not. People want to know whether things are working or not. This thing hit the ball out of the park. This other thing was a dud. People need to know. It's just part of a healthy culture and a winning team. – Perry Marshall, Bestselling Author & World-Renowned Consultant
3. WHAT IS IT I CAN DO THAT'S GOING TO CONTRIBUTE TO THE SUCCESS OF THE ORGANIZATION?
If the environment's been created to flourish, the employees then need to ask, "What is it I can do that's going to contribute to the success of the organization? How can I contribute? What do you need from me to be successful and effective?" But the first condition is leaders have to create that environment. Once that's made, the employees are responsible for responding to that environment with their best work. After being CEO for three different companies, my experience is that if the leaders create the environment, most of the time, the employees will respond because, frankly, people do want to get up and go to work and do a good job. I fundamentally believe that people given the right environments are going to make good choices. They don't make good choices because the environment stinks, so they have to go into survival mode. But if you have an organization that's really trying to achieve the top of Maslow's triangle, and if the leader has been able to create that environment, then that brings out the best in people. – Dr. John Toussaint, CEO, Catalysis
4. WHAT DO I NEED TO LEARN?
I think the current view on employee engagement is too short-sighted. The future of work will change dramatically, so employees' focus should not be on the present and how a company can fulfill my dreams and wishes today but in the future. 50% of jobs will disappear due to digitalization and automatization within the next 20 years, and so will many business models and companies. The most important questions for employees should, therefore, be "What do I need to learn? How can I grow to be still more valuable than an algorithm in 5 years?" The point is that humans are in a race against algorithms. Only if we can do things bots can't do will we have a job in the future. – Robert Fuchs, HappinessGroup.eu
5. IS THERE ANYTHING I'M DOING THAT IS MAKING IT HARD FOR YOU?
Is there anything I'm doing that is making it hard for you? Employees need to understand the bounds of what they're responsible for and what decisions they can drive. "What are we trying to achieve here?" I did an exercise called "sliders and sorts" the other day. We publish a periodic article called The Weekly Leadership Nudge. The idea is that too many times, workers can hide behind death by 1001 questions. Leaders can kill initiative by asking too many questions, but workers can kill leaders' attempts to give them any initiative by asking too many questions. – David Marquet, President, Turn the Ship Around
6. WHAT QUESTION SHOULD WE BE ASKING ABOUT THE FUTURE OF THE EMPLOYEE OR OF THE COMPANY?
I think the answer to this question depends on the situation. If a company is losing money and is at risk, the question will be very different from dealing with a project or the future of a new initiative. Ultimately, the question is either about the company or about the employee. The common thread is that both questions ought to be about the company's future or the employee. I believe talking about the future is a great conduit for the engagement that we must have. – John Bell, Retired CEO, Jacobs Suchard
7. CAN YOU HELP ME SEE WHAT I DON'T SEE?
This may sound a little idealistic, but I think it would be, "Could you help me see what I'm not seeing? Help me see what I do not see that would make my job easier, making me better at my job. That would allow me to participate fully, express myself fully, give myself over to this more. To get more out of it and put more into it." Because if you have the choice—and most people don't see this as the choice — but if you're going to do the job anyway, you want to be fully engaged. You want to be all in. You want to love it. "Help me love it"… that's wrong because people then say, "Give me more time off and …" No, it's not that. It's "help me see what I don't see." People are amazing. When we see a better way, we'll take it. – Michael Neill, Coach & CEO, Genius Catalyst
8. WHAT CAN I DO BETTER FOR THIS COMPANY?
I want to do the best possible job for this company, so what should I do better for you? What can I do better for this company? And of course, the CEO and managers should have an open ear to listen to the people. They're filled with marvelous ideas, but we don't have systems that work that way. We have a screwy system where we reward the power with more money instead of dispersing the power throughout. Getting people to be responsible, learning, and self-reliant is the challenge. – Norman Bodek, Lean Leader & Author, Owner PCS Press
9. WHAT COUNTS THAT WE AREN'T COUNTING?
What counts that we are not counting? Many organizations are a bit fixated on things like data, numbers, something you can see, and tangible things. This question would be important for an employee to ask a senior leader or manager because the answer the manager gives will tell you where he sits concerning his intention to be involved and the importance of those people, and how he values employees. For me, "what counts that we are not counting" is really a question around what's missing. I think it's also a way to bridge a gap and understand where you stand as a human being in that company based on how your manager answers. It will help you discern whether the intangible things are just as important as the numbers and the data. - Susan Taylor, Leadership Coach & CEO, Generon, International
10. WHAT ARE THE DRIVERS OF SUCCESS?
I think there's a reciprocal nature to this question. When leaders appeal to people's highest level of thinking, they get the highest response. Like employees, partners, or associates, we all have to be more curious about the business we work in rather than just the job we have. We all have to be more curious about the company we work in rather than just the job we have. I think the challenge as an employee is to say, "I have to be more curious about how this business works." What are the drivers of success? How from where I sit and live can I contribute or detract from that? How can I be a force to make enlightened decisions with my head, hands, and heart? Because if I get it and get how this all comes together and where it's headed, I can make a much more significant contribution and be more highly engaged. – Jim Haudan, Author & CEO, Root, Inc.
What is the most important question we can ask leaders?
There are many more great questions arising from our ongoing interviews with pioneering business and thought leaders.
Our book, Questions for Leaders: 74 Pioneering Business and Thought Leaders on the Most Important Questions Employees Should Ask Leaders, offers a collection of great questions to ask leaders. This book is available at Amazon.