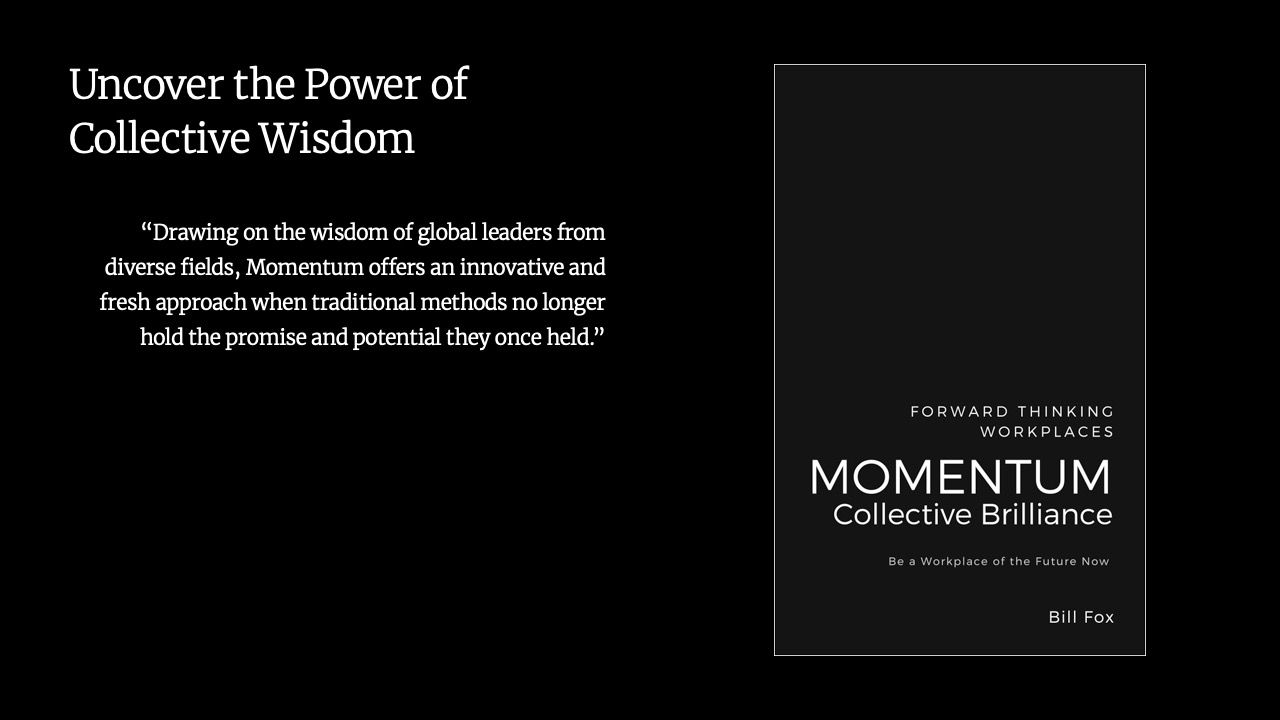 Harness the Incredible Power of Momentum and Collective Brilliance
How can we create workplaces where every voice matters, everyone thrives and finds meaning, and change and innovation happen naturally?
---
Momentum is a force that gathers strength with motion and time. It's an invisible push that comes into existence once we initiate action.
In essence, Momentum: Collective Brilliance captures this spirit of continuous progression in the realm of organizational dynamics. It draws upon the wisdom of global leaders, offering a unique blueprint for creating vibrant, collaborative, and forward-thinking work environments.
We find ourselves at a crossroads in human history. We're in the grip of an information deluge, grappling with an unrelenting storm of changes and interruptions that question everything we thought we knew.
And in the face of this upheaval, the methods of the Industrial Age, characterized by established best practices and the mantra of working harder and smarter, have lost their sheen. What served us well in the past now anchors us to it, making it impossible for us to steer toward a promising future.
This book posits that our organizations must evolve, shed the vestiges of a bygone era, and step into the 21st century. It advocates for a shift in how we perceive, act, and interact, promoting a more proactive, intuitive, and open-minded approach toward workplace dynamics. The intent is to enable organizations to sense the winds of change and adapt swiftly and quickly.
Momentum: Collective Brilliance serves as a guide to help bridge the gap between the old and the new. It presents the reader with unparalleled insights and strategies shared by over 80 pioneering leaders of tomorrow — today.
These individuals hail from diverse backgrounds, traversing the business, psychological, and spiritual domains. Their collective wisdom shines a light on how we can navigate the shifts of our times, offering fresh solutions to our most pressing challenges.
The chapters of this book each answer a pertinent question: How can we create workplaces where every voice matters, everyone thrives and finds meaning, and change and innovation happen naturally? Drawing on the collective wisdom of global thought leaders, it offers readers a glimpse into the future of work and a practical roadmap to help us get there.
So, step in and discover how you can be part of the momentum, driving collective brilliance and embodying the essence of today's world. You will realize that the future is not just happening to us; we are happening to the future.
It's time to harness the momentum and accelerate our journey toward a better tomorrow. Together, we can turn challenges into opportunities and create a future where everyone thrives, every voice matters, and innovation becomes a natural outcome of our collective efforts. Welcome to Momentum: Collective Brilliance.
Momentum: Collective Brilliance is one of the Be a Workplace of the Future Series Now books.
Where to Get Your Copy
Momentum: Collective Brilliance is available on the Kindle or in paperback at Amazon.
Or alternatively, request a free PDF copy from me here.
To your forward thinking life & great success!
— Bill
Bill Fox, Founder @ LeaderONE, SpaceB, and Forward Thinking Workplaces
Comments
Get our periodic newsletter to discover new pathways, make better decisions, and be a leader of the future — today!