Article
Forward Thinking Narratives Will Define the Great Workplaces of the 21st Century
Join us at our upcoming webinar on December 7, 2021: Forward Thinking Narratives Will Define the Great Workplaces of the 21st Century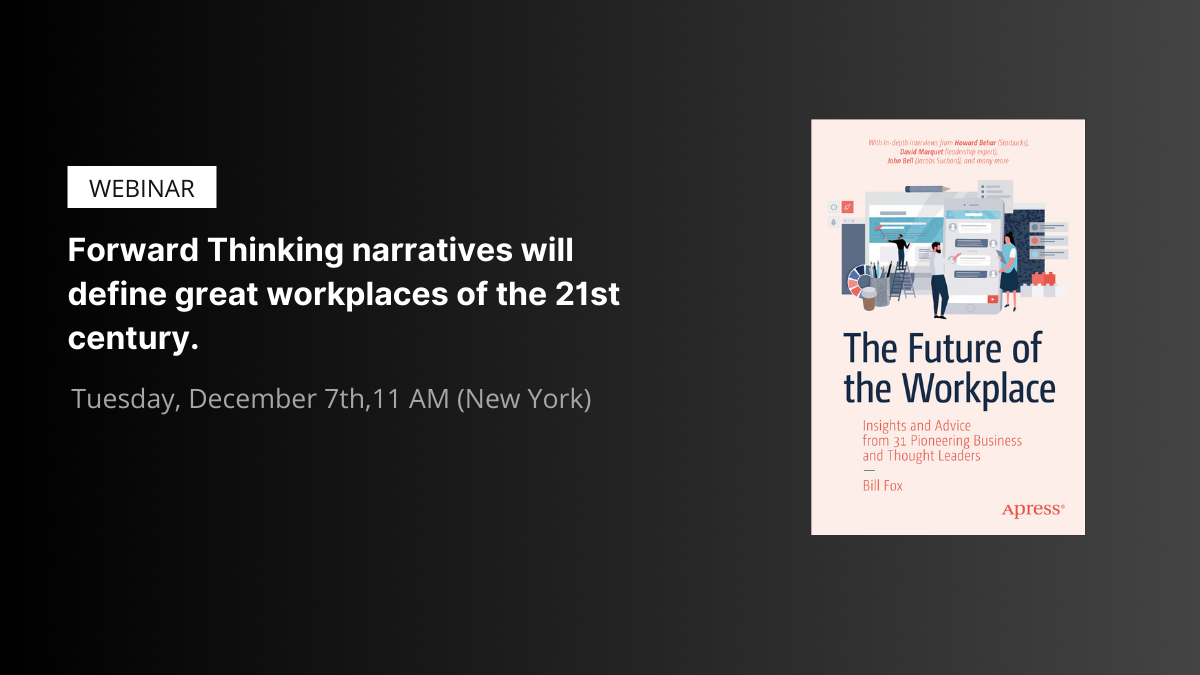 As many of you know, I have two focus areas in my work and publish two separate newsletters.
In Forward Thinking Workplaces, I engage in generative conversations with pioneering business and thought leaders to create insightful content.
And second is Space Beyond Boundaries, where I share and expand on the dimensions of the inner leader journey that this work triggered.
I now see that both areas of my work will now come together as one overarching idea that:
Great companies in the 21st century will take their people and organizations on a Forward Thinking journey.
Earlier in the summer, I had a hunch that it was now time to communicate the two most compelling messages from my work in a more visible way, so I scheduled two webinars to talk about those ideas.
Where are we headed?
Is higher performance, more remarkable growth, more engagement, and more agility, etc., really anyone's most inspiring and aspirational end game? ‌
As Dee Hock reminds us, there's a lot of work to be done.
It is extremely rare when mankind creates a compelling new story of the future with a means of achieving it, a philosophy for ennobling it, and an organization for sustaining it. Yet, nothing less is essential as the new century slips away. — Dee Hock, Founder and President and CEO Emeritus, Visa International
‌‌‌For myself, subscribers to this newsletter, and the 80+ world-renowned business and thought leaders, I've interviewed at Forward Thinking Workplaces, I think it's fair to say that it's more along the lines of aspiring for workplaces where every voice matters, everyone thrives and finds meaning, and change and innovation happen naturally. ‌‌‌‌
Our next webinar, Forward Thinking Narratives Will Define the Great Workplaces of the 21st Century, will occur on Tuesday, December 7, 2021.
In this session, I will present the overall evolution of what became Forward Thinking Workplaces and what we can take and learn from it.
This session won't follow the typical format where I'm doing all the talking and present.
I will invite anyone who chooses to join the discussion to participate and contribute as well.
I'll share the key lessons I've learned on my 12-year journey, and why I believe, Forward Thinking narratives will define the great workplaces of the 21st century.
Sign up to register for the event
This event will take place on Tuesday, December 7, 2021, at:

– 4 pm GMT (London)
– 11 am US ET (New York)
– 8 am US PT (Los Angeles)
I hope to see you there and please get in touch if you have any questions.
To your forward-thinking life & success!
— Bill
Bill Fox, Author, and Founder at Space Beyond Boundaries and Forward Thinking Workplaces.