Interview
Do You See the True Paradigm or Not?
Gain a new understanding of the true nature of thought and why it may be the most powerful force in the universe.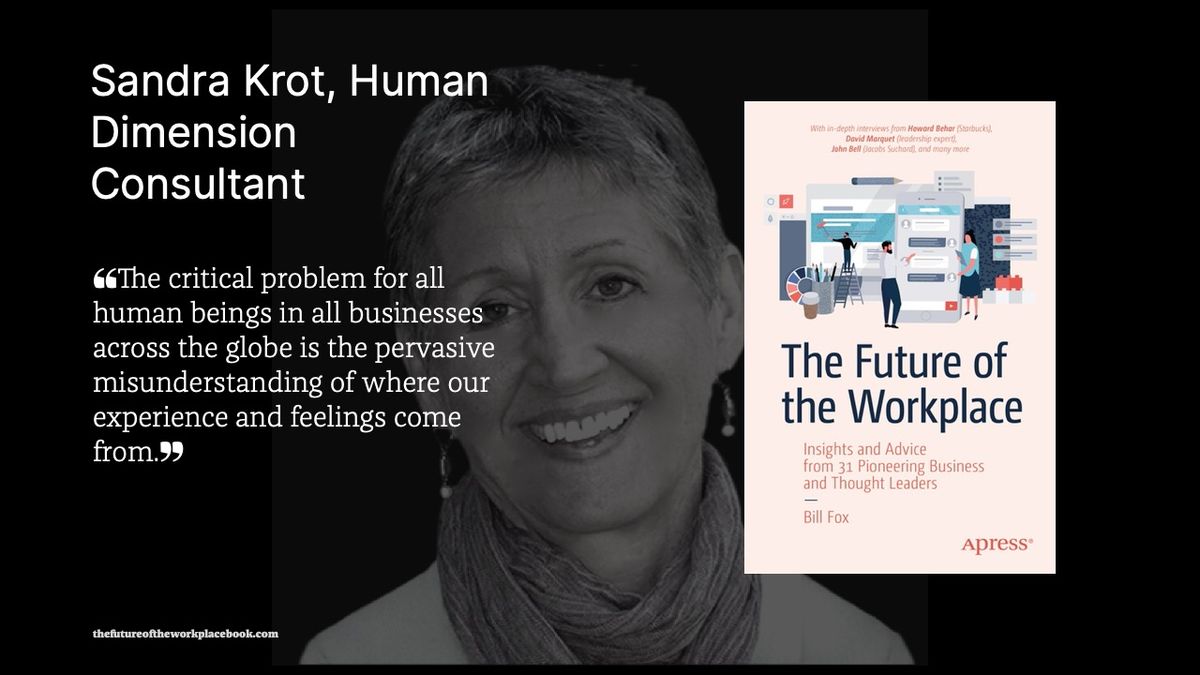 ---
Sandra Krot: Human Dimension Consultant. Co-author of Invisible Power.
---
At Forward Thinking Workplaces, we are discovering the people, insights, and strategies that lead to Forward Thinking minds, leaders, and workplaces of the future — today. The Forward Thinking Workplaces narrative is uncovering exciting new perspectives you need to succeed in the 21st century and will define the great workplaces of our times. Check out our upcoming Events page or visit billfox.co to learn more.
---
How can we create workplaces where every voice matters, everyone thrives and finds meaning, and change and innovation happen naturally?
Sandra Krot: I'd like to answer that question from three different perspectives: the perspective of the individual person in an organization or business, the perspective of the leader in an organization or business, and the perspective of people like you and me who are wanting to be of service to businesses. I'll start with the individual because what I have to say is the foundation for all three categories.
The critical problem for all human beings in all businesses across the globe is the pervasive misunderstanding of where our experience and feelings come from.
It's a misunderstanding that's comparable to the misunderstandings throughout our history that blocked our evolution. For example, take the misunderstanding that the earth was the center of the solar system and not the sun, or the misunderstanding of where infection came from. These were pervasive misunderstandings, and they had consequences.
There's a misunderstanding today that somehow our experiences and our feelings can get put upon us or be caused by something outside of our own minds, and this misunderstanding has profound consequences in business.
There is a principle-based paradigm at work. A paradigm is, of course, a set of assumptions or a set of facts, or a way to look at something that is very definitive. It's very black and white. You're either in the paradigm or you're not. We are living in what you might call a false paradigm. Just like we were when we misunderstood the earth was the center of the solar system. It was a false paradigm.
The false paradigm that we live under in this world is the paradigm that something other than thought—or other than our own internal psychological process—can bring us an experience or a feeling.
I call it a false paradigm, not to judge it in any way, but the earth was never the center of our solar system and infection was never caused by evil spirits and bad air. These paradigms were false, but not in a judgmental way. They simply were not true. The outside-in thinking paradigm we believe as human beings is not true.
When people who work in an organization get awakened to what's actually true about how the mind works, they can see for themselves how the mind doesn't work or can't work. It puts them in a position to be everything we want people to be, and everything we want ourselves to be when we're working in an organization.
When you don't feel victimized by your circumstances, when you have a feeling of choice, when you have options, you really do settle down as a human being. You settle down as a worker. You settle down as a contributor. You become a better listener. You see what to prioritize in your work. You see what purpose you really serve, and what's important. And you become very creative because you're not at the mercy of thinking that fills up your head, taking you away from your own ability to be creative and to have new thinking at any moment. For individuals to see past this false paradigm—to see that the mind really works only one way, that it works from the inside- out, that our experience is being created within. To see this is a game changer.
Leaders and people managers, in my mind, have a little bit more responsibility than the individual contributor. To some degree, leaders and managers have influence over others. That's why when we work with businesses, my company, Insight Principles, starts with leadership. We feel that leaders need to see for themselves what is going on inside. Once leaders see for themselves that there is nothing—not the economy, not the deadlines, not the customer, none of those things are the source of their feelings and their stress. Once they truly see this, they can make the kinds of decisions they need to make for their businesses to thrive. And of course, just like individuals, they become better listeners. When you're a good listener, you get more and better information. This really has an impact on the company and on the bottom line.
And from the perspective of those of us who are trying to help organizations, I think we stop focusing on changing behavior. Behavior to me is the caboose on the train. People behave how they feel, and people feel how they think. If we don't address thought, we really have no hope of changing behavior—not consistently or sustainably. If we don't address the source of thought, then the behavior will be something we constantly have to be on top of. That's a workload for any corporation. It's a workload for any human being. So, we need, as practitioners, to stop focusing there and to begin to see what the true source of behavior is.
I know that plenty of programs look at thought, but they look at it as thinking styles. Or they look at it as trying to change what people think to get them to think better.
What is far more valuable is to teach people that they think—to teach and show people that they are gifted at birth with this incredible power called the power of thought.
This power is bringing to us every feeling, every experience, and every glimpse of reality we have ever had since the moment we were born until the moment we die.
The power of thought is truly the most powerful force in the universe. It's sitting under our noses, and we don't know it. We don't see it. We don't realize it. As a result, we don't get to use this gift the way it was designed to be used. I feel like my first and sometimes only job when I'm helping a business is to help people see the power of thought.
What does it take to get an employee's best performance and full attention?
Sandra: When I walk around the corporations I work with, what strikes me is how busy people's minds are. It is very difficult to get people's full attention. What is needed is for all of us to realize how the human mind actually works.
When I saw that my experience can only come from thought in the moment, this realization took so much thinking off my mind.
I stopped fretting about things. I stopped thinking about whose fault it was. I stopped having these long dialogues in my head about why this was unfair and who's to blame and what I needed to do to feel good about myself. There's so much extra thinking that people do. It keeps them preoccupied.
One of the results we hear from our clients when they realize how their minds actually work is they say to us, "Wow, I can't believe how much more present I am!" They discover that when they become present, a whole set of capacities and abilities shows up. They feel more insightful. They feel more creative. They feel that they can see the bigger picture, so they get perspective. It's not like they're not already doing this, it's that these capacities show up more often when their minds are free of unnecessary and unproductive thought.
You can tell people, "You just need to quiet your mind or clear your head or be mindful." But that's like telling people you just need to lose weight or stop smoking. It's great information, but to be able to pull it off, you have to see in the moment what actually is filling your head up. It was a surprise to me how much extra thinking I was doing that served no purpose other than to perpetuate an outside-in illusion. To get people's full attention and best performance, we need to teach them and help them see for themselves how their minds actually work.
It's interesting when you see how your mind works because at the same time you see how it doesn't work. That's the nature of seeing something as a paradigm. When you see something as a paradigm, it's like putting a box around it. It's definitive. It's black and white. When I realized my experience was coming from thought in the moment and no place else, it eliminated all other possibilities. That realization rendered so much thinking useless.
My mind quieted down, and my mind cleared and I could pay attention. I see this happening with the companies that we work with. It's making a big difference.
Note: This is a preview of the full interview. The complete interview was selected by Apress for publication and continues in The Future of the Workplace.